THE GOLDEN JUBILEE
Our flagship coin commemorating 50 Glorious years of Syedna Mohammed Burhanuddin (RA). The limited edition coins are now available in Gold, Silver, Brass and Nickel.
THE KARBALA
The first coin of 10 coins in our Ziyarat Collection of coins, this exquisite commemorative limited edition Proof coin commemorates,
KARBALA,
the home of the Imam Hussain Shrine.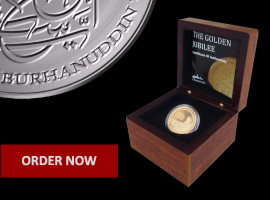 THE RAUDAT TAHERA
The second coin in our Ziyarat Collection, the Raudat Tahera commemorates the home of the shrine of the 51st and 52nd Dai-Al-Mutlaq. The limited edition Proof coins feature our unique coloring technology.
UPDATE: REGISTRATION CLOSED. Coins are now available to order on our website.
We are please to announce that our next coin in the Ziyarat Collection, KUFA, will be released on 31st July 2014.
Pre-register here for previews […]